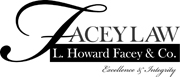 Faceylaw
10th Floor 25 Dominica Dr Kingston 5 Jamaica
info@faceylaw.com
www.faceylaw.com
Description:
Howard Facey's and Camille Facey's years of experience in law and in the corporate world provide the underpinning of the expertise the firm makes available to a diverse client base. Their interest and involvement in national development, small business development, education, arts & culture, technology integration and public policy enable them to take a holistic view of issues and provide their clients with reasoned, practical and informed advice on a range of issues.
L. Howard Facey was called to the Bar in Jamaica in 1978 and has spent over thirty-three years as an Attorney-at-Law providing Practice Areas to private and public sector clients. He is the holder of a Bachelor of Laws Degree and a Master of Laws Degree from the University of the West Indies.
Camille Facey was called to the Bar in Jamaica in 1982 and has over twenty-eight years of legal, regulatory and commercial experience. She has headed the Legal Departments of major companies where she developed expertise in banking, telecommunications and commercial law.
Our Philosophy
Meeting and exceeding client expectations by the provision of excellent legal services in a timely manner, is the motivating force for each and every member of the staff of L. Howard Facey & Co.
The firm operates on principles of excellence, integrity, justice, leadership and good corporate citizenship.
Practice Areas:
Banking & Finance
Company & Commercial Law
Company Secretarial Services
Competition Law
Conveyancing & Real Estate
Corporate Governance
Divorce
Estate Planning, Probate & Administration, Wills and Trusts
Information Communication Technology/Telecommunications Law
Intellectual Property