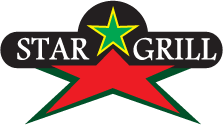 Star Grill
20 South Race Course Rd., Mandeville, Manchester, Jamaica
stargrillja@gmail.com
www.stargrilljm.com/
Video Ad:
Description:
How Star Grill came about? Why we opened a restaurant? How the menu was chosen?
Why a restaurant?
While we lived in Kingston we were a constant on the restaurant scene. We loved to try new foods, and explore all the different flavours and textures that were available. We were professional foodies! However, when we moved to Manchester, there were very little options for dining out in the region. We saw a need and decided to fill it. We figured we would ensure that everyone had an option at Star Grill in a setting designed by some of the best in the world. Our entire family got involved and everyone brought some talent to the table from helping to design the logo, to taking pictures to helping to design the menu, etc. it became a family affair.
Why the name Star Grill?
The restaurant was named after our eldest daughter whose name is Rohini which means Star
How we chose the menu?
We worked with several chefs from the region and as far as from Germany to come up with the best variety and quality options.
How has it changed Mandeville
Our patrons tell us that Mandeville really needed something like this. The quality of service offered has raised the bar in Mandeville. It has even encouraged other businesses to improve the service they offer to their patrons. People are excited to have options in terms of Drive thru or quick service casual dining, or fine dining upstairs.
The decor is the most talked about in town and was designed by HGTV internationally renown designer VernYip. The ambience has left a memorable impression on both local and overseas guests alike. Our guests enjoy relaxing at Star Grill and taking pictures almost as much as they enjoy the food.