Optical Smart Limited
876-970-3016
134 Old Hope Rd Kingston 6 Jamaica
| | |
| --- | --- |
| Hours Open | Monday to Saturday 10:00 am - 6:00 pm |
Description: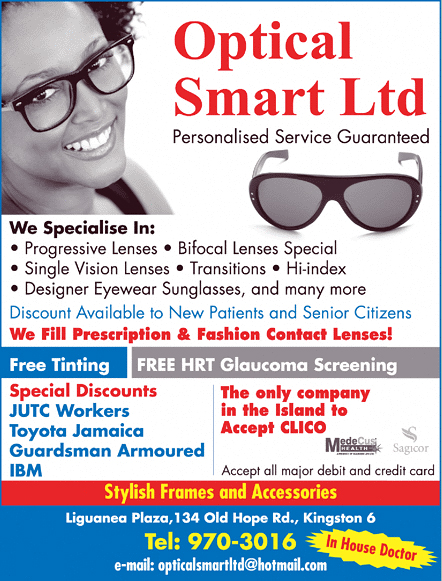 Optical Smart has a wide range of optical supplies to suit your needs, including progressive lenses, bifocal lenses, single vision lenses, transitions, Hi-Index, contact lenses, designer eyewear and sunglasses, and many more. Our patients receive personalised service by our professional staff.
We have an independent Board certified Doctor of Ophthalmology on premises, guaranteeing that your eye exam will be accurate and thorough. Our doctor specialises in finding the perfect lenses for our patients from the ordinary to the most difficult. If you are having any problems with uncomfortable or blurred vision or if it is just time for your annual eye exam, we urge you to make an appointment at Optical Smart.
Regardless of Optical Smart's designer products and services, our prices are not out of sight. Our eye exams are very affordable and our products are reasonable and can fit any budget out here – no matter how small. We are determined to make our customers go home with exactly what they want.